Global Technology
MetLife is leading the charge in transforming the global insurance industry by pursuing innovation and using digital technologies to redefine the customer experience. We look at digital as being part of everyone's job description – a common thread linking all of our teams around the world.
World-Class Work Environments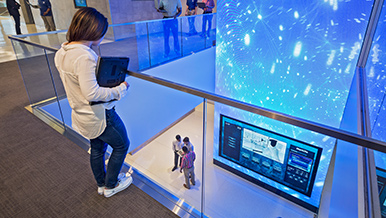 Since 2013, MetLife has been on a mission to transform the workplace experience by bringing employees together in state-of-the-art, collaborative environments so that they can deliver the very best for our customers. We're aligning technology and space to support work in a variety of environments and we're helping to attract and retain the best talent in the industry by creating the very best work environments in the industry.
Today, more than 20,000 of our employees sit in these state-of-the-art environments that include outdoor spaces, campus-wide Wi-Fi for work space flexibility, and dedicated collaboration areas. These are environments where you can connect with a strong team of developers, business analysts, project managers and more, working together to advance our business through innovation and cutting-edge technology.
The MetLife Approach to Technology
We are driving capabilities in digital automation, data analytics, product distribution and innovation.
In digital automation robotic technologies, we're focused on customer platforms. To date, we've deployed 175 robots with the majority in our back-office, and we're continuing to test in less predictable areas. The use of robots augments the work our employees do – enabling them to focus on tasks that require a special human touch.
Within data analytics, it's all about the data science architecture. We're establishing new processes to manage data, connect it to outcomes and start finding real insights. These data-driven insights will transform the relationship with our customers through new products and services that anticipate and meet their needs.
Innovation is seeing huge growth with the use of artificial intelligence (AI). We're partnering with IBM to develop an industry first Insurance Platform, paving the way for product innovation and new levels of personalized customer service. The combination of AI, cognitive computing and cloud technology enables us to discover deeper insights from data. The platform provides both enhanced service to existing customers and gives new insight and data to secure new ones.
We're also fostering innovation within the organization by nurturing the next generation of tech talent. MetLife Tech University is our program for rising university juniors and seniors and entry-level professionals that provides training and educational opportunities for emerging top talent. We offer two tracks – Internship and Professional – in order to immerse participants in our business, people and culture.
Sam Brown, Analyst, Strategy & Planning
In my role, I get to work with people of all ages, cultures and expertise, making every day in the office a learning experience. The people within Service Operations have created an environment that promotes innovation and collaboration between all levels of management. I am excited about growing my career in this organization.
Sam joined MetLife in December of 2017. She quickly formed relationships with her coworkers to better understand their pain points and proceeded to remove barriers that impede their ability to best serve its customers, both within and outside MetLife. Sam acts as a liaison who brings people together and poses questions that invite conversation on best practices and challenges the status quo.